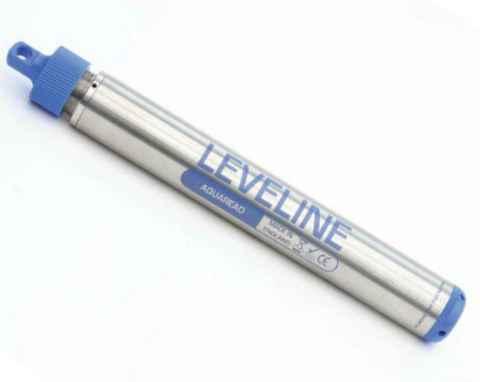 Features
Self contained titanium water level and temperature logger
Fully compatible with Neon telemetry data loggers

Available as absolute or vented options

Compatible with handheld GPS Aquameter

Exceptional battery life and low power consumption

Available with both vented (gauge) and non-vented (absolute)

SDI-12 and Modbus as standard

Simple yet effective PC application

Ultra rugged titanium body

Set up event triggers for user specified level and temperature changes
Produce Google Earth files, Excel files and text reports at the press of a button
Overview
The LeveLine collects water level data at user-defined intervals and stores the information in its internal memory. The logger can take up to an impressive 10 readings per second and the huge internal memory is capable of storing up to 500,000 readings. Made from titanium the LeveLine is built for deployment in all kinds of water from fresh groundwater to salty marine waters.
It is constructed with harsh environments in mind and has an ultra rugged titanium body and connectors that are highly resistant to corrosion. The Delrin nose cone reduces fouling of the pressure sensor, which extends the length of deployment, maintains data accuracy and extends the life of the LeveLine.
LeveLine is available with both vented (gauge) and non-vented (absolute) Kevlar reinforced cables that allow for real-time monitoring. For the non-vented version you will also require a barometric pressure monitor, LeveLine – BARO. Each baro logger provides compensation data for multiple water level loggers that are close by.
LeveLine can be connected to our range of Neon, web-enabled,  telemetry loggers so that data can be accessed directly from your PC, tablet or mobile device. If you prefer a more hands on approach you can monitor in real time using your laptop or the GPS LeveLine meter.
Technical
| | | | |
| --- | --- | --- | --- |
| GENERAL | | | |
| | LEVELINE – (Abs & Gauge) | LEVELINE – BARO | LEVELINE- MINI |
| Temperature ranges | Operational: -20-80° C (-4-176° F) | Operational: -20-80° C (-4-176° F) | Operational: -20-80° C (-4-176° F) |
| | Storage: -40-80° C (-40-176° F) | Storage: -40-80° C (-40-176° F) | Storage: -40-80° C (-40-176° F) |
| | Compensated: -20-80° C (-4-176° F) | Compensated: -20-80° C (-4-176° F) | Compensated: -20-80° C (-4-176° F) |
| Diameter | 22.2mm (0.875 in) | 22.2mm (0.875 in) | 22.2mm (0.875 in) |
| Length | 186mm (7.32 in) | 186mm (7.32 in) | 87mm (3.43 in) |
| Weight | 150g (5.3oz) | 160g (5.6oz) | 120g (4.2oz) |
| Materials | Titanium body, Delrin nose cone | Stainless Steel body, Delrin nose cone | Stainless Steel body, Delrin nose cone |
| Output options | Modbus/RS485, SDI-12, Aquaread proprietary | Modbus/RS485, SDI-12, Aquaread proprietary | Modbus/RS485, SDI-12, Aquaread proprietary |
| Battery type & life | 3.6V lithium; 10 years or 5M readings | 3.6V lithium; 10 years or 5M readings | N/A |
| External power | 6 – 30 VDC | 6 – 30 VDC | 6 – 30 VDC |
| MEMORY | | | |
| | LEVELINE – (Abs & Gauge) | LEVELINE – BARO | LEVELINE- MINI |
| Size | 8.0 MB | 2.0 MB | N/A |
| Data records | 500000 | 150000 | N/A |
| Log types | Linear, Event & User-Selectable | Linear, Event & User-Selectable | N/A |
| | Schedule with Future Start, Future Stop, | Schedule with Future Start, Future Stop, | |
| | Deploy Start and Real Time View | Deploy Start and Real Time View | |
| Fastest logging rate & Modbus rate | 10 per second | 1 per minute (logging) | 10 per second (Modbus Rate) |
| | | 5 per second (Modbus) | |
| Fastest SDI-12 output rate | 1 per second | 1 per second | 1 per second |
| Real-time clock | Accurate to 1 second/24-hr period (± 6 minutes/year) | Accurate to 1 second/24-hr period (± 6 minutes/year) | N/A |
| SENSOR | | | |
| | LEVELINE – (Abs & Gauge) | LEVELINE – BARO | LEVELINE- MINI |
| Type / Material | Piezoresistive; ceramic | Piezoresistive; ceramic | Piezoresistive; ceramic |
| Range (Absolute) | 10.0m (32.8 ft), 20.0m (65.6 ft), 50.0m (164 ft), 100m (326 ft), 200m (656 ft) | 0 to 16.7 psi; 0 to 1.15 bar | 10.0m (32.8 ft), 20.0m (65.6 ft), 50.0m (164 ft), 100m (326 ft), 200m (656 ft) |
| Range (Gauge) | 10.0m (32.8 ft), 20.0m (65.6 ft), 50.0m (164 ft), 100m (326 ft), 200m (656 ft) | N/A | N/A |
| Maximum pressure | Max 2x range, Burst 2.5x range | Max 2x range, Burst 2.5x range | Max 2x range, Burst 2.5x range |
| Accuracy @ 15° C (See note 1) | ±0.05% FS | ±0.1% FS | ±0.05% FS |
| Accuracy (FS) (See note 2) | ±0.1% FS | ±0.2% FS | ±0.1% FS |
| Resolution | 0.005% FS or 1mm whichever is greater | 0.1mb | 0.005% FS or 1mm whichever is greater |
| Units of measure | Pressure: psi, kPa, bar, mbar, mmHg, inHg, cmH2O, inH2O, Level: in, ft, mm, cm, m | Pressure: psi, kPa, bar, mbar, mmHg, inHg, cmH2O, inH2O | Pressure: psi, kPa, bar, mbar, mmHg, inHg, cmH2O, inH2O, Level: in, ft, mm, cm, m |
| TEMPERATURE SENSOR | | | |
| | LEVELINE – (Abs & Gauge) | LEVELINE – BARO | LEVELINE- MINI |
| Accuracy Resolution | ±0.1° C | ±0.1° C | ±0.1° C |
| | 0.01° C | 0.01° C | 0.01° C |
| Units of measure | Celsius | Celsius | Celsius |
Documents